We look forward to seeing you!
We Gotta Dance: PULSE Prom!
Friday, April 21, 2017 6:00 pm - 10:00 pm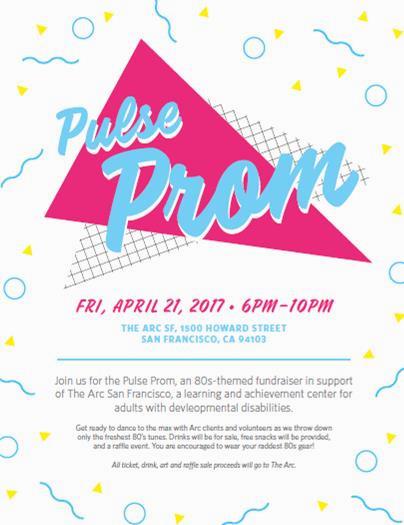 Location:
The Arc San Francisco
Description:
We Gotta Dance! Enjoy DJ'd music by clients of The Arc. Dance, Snacks, Fun!

Join us for the Pulse Prom, an 80s-themed fundraiser in support of The Arc San Francisco, a learning and achievement center for adults with developmental disabilities. get ready to dance to the max with Arc clients and volunteers as we throw down only the freshest 90s tunes. Drinks will be for sale, free snacks will be provided, and a raffle event. You are encouraged to wear your raddest 80s gear!

April's dance is being taken over by PULSE of the Arc, The Arc's young professionals volunteer group. There will be a photobooth, special DJ, karaoke, and other special activities to make this a very special day! Funds raised during this dance will go to support arts and employment programs here at The Arc.

Tickets to this special dance are $20, but clients get in free.

Get your tickets here: https://www.eventbrite.com/e/pulse-prom-tickets-32608835906

All ticket, drink, art, and raffle sale proceeds will go to The Arc.