The Arc San Francisco Household Goods Curbside Pickup Program is temporarily unavailable.
If you wish to donate to The Arc San Francisco, please drop your donation at Thrift Town, 2101 Mission Street at 17th Street. Thrift Town will provide a tax-deductible receipt for your donation. You may park in front of the store to drop off donations.
http://thrifttown.com/store-finder/?id=5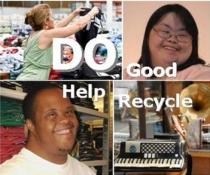 Donate Opportunities
Your reusable clothing and household items DO make a difference.
Items we need the most:
Clothing (all types, sizes)
Clothing Accessories
Shoes
Bedding (No Mattresses)
Drapes and Curtains
Books and CDs
Kitchenware
Toys and Games
Tools
Radios and Small Appliances
Furniture (Good Condition Only: Please Call First)
Please attach a paper marked "The Arc San Francisco" to your donations.
Your donations are tax deductible to the extent permitted by state and federal law and we will provide a receipt. Our Federal Tax ID number is: 94-1415287.
Since 1973, items donated to The Arc San Francisco benefit our clients — and the community — through ThriftTown, a local thrift store located at 2101 Mission Street at 17th. Thank you!
What's the value of my donation?