Together with our donors and partners, we are creating a better quality of life for people with developmental disabilities.
Leadership Giving
Anyone making a $1,000 gift or more in one year to The Arc San Francisco is considered a Leadership Donor, whether giving in response to an appeal letter, sponsoring an event, or responding to a direct ask from our leadership or board. We love Leadership Donors!
While all gifts make a difference at The Arc SF, leadership gifts make an immediate and deep impact on the people we serve by strengthening our programs and improving our services. Make your unrestricted leadership gift to support The Arc SF's area of greatest need or restrict its use to employment, continuing education, healthcare, or independent living services. If you'd prefer to pledge and make gift payments over time, we are happy to set that up for you. Thank you for your support of The Arc SF!
For more information about Leadership Giving and our events, contact Esther Landau, Senior Director of Advancement, elandau@thearcsf.org.
Make a gift today!
Leadership Members
Courtney Broadus & Christian Meyers

Holly Johnson & Parker Harris

Ann Marie Heffernan & Scott Gardner

Jodi Sherman Jahic & Sejo Jahic

Dan Joraanstad & Bob Hermann

Elizabeth Brogna & Michel Kapulica

Timothy Lynn & Gary Sullivan

Elizabeth Sheofsky & Larry Melillo

Synthia Mellon Miller & Walter Miller

Margaret Rosegay & Steve Piatek

Catherine & Wister Walcott
Corporate Circle 2020-21 Partners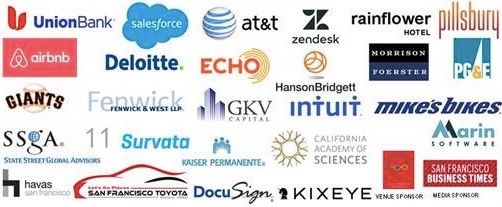 These Bay Area community partners are local and national corporations that make important contributions of $1,000 or more toward sustaining and improving our services for people with developmental disabilities. There are five levels of partnership: Circle(s) of Inclusion, Dignity, Equality, Community and Independence.
For more information or to become a Corporate Circle Sponsor, email Esther Landau, Director of Advancement, elandau@thearcsf.org.
CIRCLE OF EMPOWERMENT $15,000+
Zendesk
Safeway Foundation
Salesforce
PACESETTERS CIRCLE $10,000+
CIRCLE OF EQUALITY $5,000+
Deloitte
Emergence Capital
Fenwick & West LLP
Lockton
Hanson Bridgett
Marin Software
Morrison Foerster
CIRCLE OF COMMUNITY $2,500+
Twitter
Giants
San Francisco Toyota
CIRCLE OF INDEPENDENCE $1,000+
Venables Bell + Partners
GKV Capital
Upwave
CalNonprofits Insurance Services
Pillsbury
Our impact this year has changed our community!
Thank you to our community and business partners!