Join Us in Making a Difference
Volunteer Opportunities at The Arc San Francisco
Are you ready to make an impact and be a part of positive change? The Arc San Francisco invites you to join our community as an ally through various volunteer opportunities. Our flexible scheduling and unwavering support ensure a seamless experience for you.
Explore Diverse Opportunities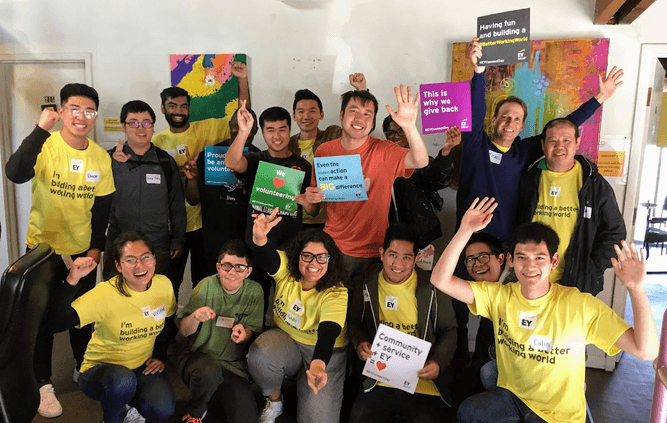 Corporate Groups: Enhance team dynamics and broaden perspectives by engaging in impactful experiences with us. See the world through a more inclusive lens while contributing your time, expertise, and resources to support paradigm-shifting work in disability support.
Classroom/Group Support: Contribute your skills and time to foster inclusive lifelong learning. Whether it's recreation, wellness, life skills, or other classes, your involvement on weekdays can create meaningful impacts.
Individual Support: Empower individuals through mentorship. You can support advocacy, social engagement, and small business planning. Additionally, assist others in achieving their employment goals through resume building, interview preparation, and more.
Pulse of The Arc
Elevate your impact by joining Pulse of The Arc's vibrant volunteer collective! This dynamic group is dedicated to raising awareness, fostering camaraderie, and securing crucial funding for The Arc. Dive into an array of thrilling fundraising events, from virtual dances that set the groove, to engaging happy hours, captivating art exhibitions, and spirited bowling nights. Embrace the opportunity to make a lasting difference in the lives of individuals within and beyond the disability community, as we come together for enriching classes and outings.
Business Advisory Council
The Business Advisory Council is a networking group of professionals dedicated to generating job opportunities for individuals with intellectual and developmental disabilities. Meeting monthly, the council collaborates with The Arc's employment experts and potential clients aiming to join the workforce. Through guidance and job leads, the council plays a vital role in facilitating potential placements.
Board Service
The Arc San Francisco operates under the guidance of a volunteer Board of Directors, alongside key staff and self-advocates. We greatly appreciate the insights and knowledge shared by our family members and the supportive circles of our clients. Typically, board members serve two three-year terms, with the possibility of an optional third term. They also have the opportunity to engage in board committees that convene before regular board meetings.
2023 Board meeting schedules can be found here.
For more information about Board service, download the Board Member application form and application instructions and email Kristen Pedersen, Executive Director. Application instructions may be found here.
Now you can pay your parking tickets through community service at The Arc. Visit San Francisco's Project 20 Program to learn more.
Hear from our Volunteers!
Meet Keith!
Meet Michelle!
Our impact this year has changed our community!
Thank you to our community and business partners!