The Arc SF Holiday Gift Cards for Clients Drive

Help The Arc fulfill the wishes of clients in need with Gift Cards for everyday essentials like groceries, a warm blanket or clothes for work.
People with developmental disabilities are often alone or without the means to celebrate the holidays. Your gift of $25 or more will purchase a gift card to Walgreens, Safeway or Target, bringing joy and a welcome gift to someone in need.
Here's how to participate:
Gift Cards are in $25 increments. But most clients need multiple gift cards. 
You can choose to:
Email aguillen@thearcsf.org to indicate how many of which Gift Cards you/your office would like to purchase ($25 ea.: Safeway, Target and/or Walgreens), with the amount you wish to raise, or the amount of your one-time cash donation.
Ask us to create your Company Campaign Fundraising Page in which you can choose to:

a) Indicate a number of client wishes you wish to fill (up to 150 clients in need)
b) Indicate the total fundraising goal for your office (ex. $50 x 40 donations from staff = $2,000)
In past years, generous companies have "adopted" a group of Arc clients. We provide brief biographies of each client and then their stories are circulated among employees, inviting them to support the cause. We'll be launching this year's Holiday Gift Card Drive on #GivingTuesday, November 27th. But you can jumpstart your company's campaign now--we're ready to help.
Gift Cards for Clients
Purchase $25, $50, $75 worth of Gift Cards or more. We'll distribute donations so that all clients on our Wish List receive a gift.
Deadline
All cards must be purchased by Friday, December 14th.
Order Now!
Meet Some of Our Holiday-Spirited Clients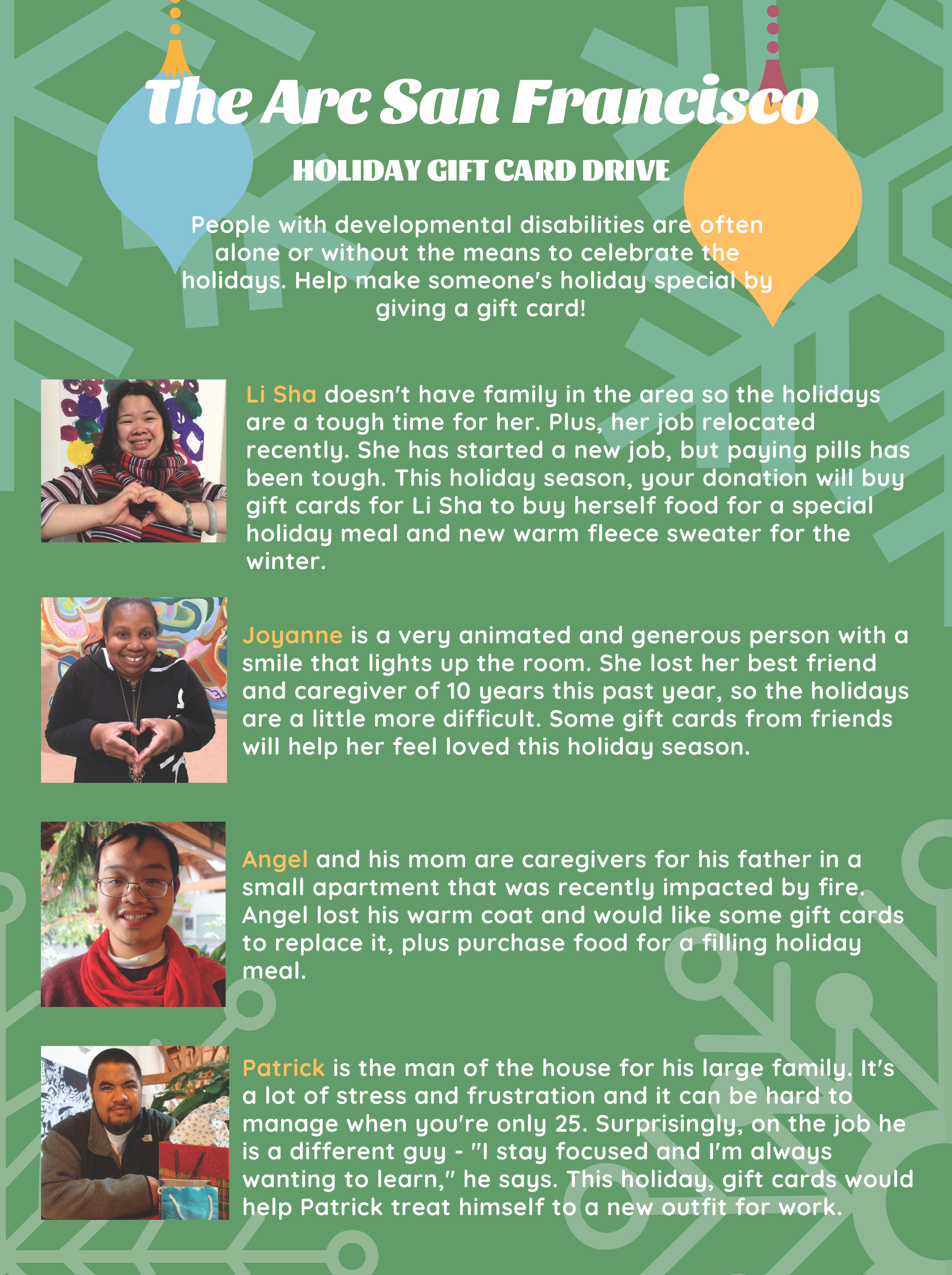 We look forward to sharing the spirit of the holidays together!
Thank you to our community and business partners!