The Arc San Francisco is governed by a volunteer Board of Directors and led by key staff and self-advocates. We also value the input and experience of our family members and client circles of support.
Board of Directors
We're proud to introduce our Board of Directors with each individual's role and why they choose to devote their time and talents to The Arc. Meet our Board of Directors.

Ellen Hanscom, Chair
Ellen is currently Regional Office Experience Leader for Deloitte, a global professional services firm. Prior to joining Deloitte in 2008, Ellen spent 9 years as Regional Operations Manager for the management consulting firm, A.T. Kearney. Ellen relocated to San Francisco in 1999 from Bend, Oregon, where she was very active in community efforts. During her 12 years in Bend, Ellen served on the boards of Deschutes United Way, Central Oregon Boys and Girls Club, the St Charles Medical Center Foundation, Mt. Bachelor Rotary Club, and at the state level on the Jobs Plus and Lighted Schools Councils. Ellen became involved with The Arc San Francisco as a member, then Chair of the Business Advisory Council. She served on the board in 2004-05, and after a two year absence, she returned to the board. Ellen is a member of The Arc Angel Society, and is thrilled to be an active supporter of The Arc San Francisco. Ellen is very involved in the inclusion efforts at Deloitte, leading the Ability First efforts for the West Region. She is committed to helping our community and our businesses embrace and support Arc clients as valued and integral members of our society.

Gloria Louie, Vice-Chair
Gloria Louie is the former manager of Organizational Development & Special Projects at San Francisco International Airport. She was with SFO since 1999, and has deep experience in human relations and engagement, leadership development, recruitment, diversity awareness training, and cross cultural communication. Prior to her work at SFO, she was the Director of EEO/Affirmative Action for the SF Department of Public Health and was the Affirmative Action/Civil Rights Officer for the SF Department of Social Services. A graduate of UC Berkeley, Gloria has also been an instructor at UC Davis Center for Human Services, and has a consulting practice. Gloria has been instrumental in partnering with The Arc SF in its Ready, Set, Fly! initiative with SFO and airlines such as United and Jet Blue as well as in the production of the SFO Disabilities Access Training Video, which received the SFO in Services to Communities Award. Gloria is pleased to take up her new responsibilities as Vice-Chair of The Arc SF's Board of Directors and Chair of the Board Leadership Committee.

John Beeler, At Large Director
John Beeler has served on the Arc San Francisco since 2015. He recently retired from Salesforce where he served in various leadership capacities from 2008 to 2020 including as EVP, Chief Risk and Assurance Officer and EVP, Chief Compliance Officer. His functional responsibilities included leading and scaling the global security and safety,  risk management, technology compliance, internal audit, and the SOX compliance programs.  Prior to Salesforce, John held finance, compliance, and internal audit leadership roles at Amgen Inc. and Brunswick Corporation. He began his career at Price Waterhouse in their assurance services practice. He is a CPA (inactive) and received his BS in Accounting at the University of Illinois – Urbana and his MBA from the University of Chicago.  John previously served on the Board of Governors of the Institute of Internal Auditors (IIA) for the San Francisco chapter from 2010 to 2018, having served as the President and the Vice President of Programs, as well as the IIA's global Committee for Research and Education Advisors.

Carolyn DeVoto Salcido, Secretary
Carolyn is a graduate of St. Ignatius College Preparatory in San Francisco and of Loyola University Chicago with a B.A. in Elementary Education. Her career began in the for-profit sector as Executive Assistant to the Vice President for Advertising Sales and Marketing at NAVTEQ Corporation in Chicago. She then returned to the Bay Area, as Development Assistant at St. Ignatius College Preparatory, then as Planned Giving Coordinator . In 2013, Carolyn moved to Caminar for Mental Health as Director of Development. Carolyn recently started a new position as Leadership Giving Officer at California College of the Arts in San Francisco where she will cultivate and solicit major gifts to sustain the annual fund and support an upcoming major capital campaign. She has extensive experience as a volunteer with local nonprofit organizations such as Marin Ventures and The Pomeroy Recreation and Rehabilitation Center. Two of Carolyn's three siblings were born with severe developmental disabilities, so she brings to her career in nonprofit fundraising a passion for service, education, equal opportunity and quality of life for all populations. Carolyn received her Master's in Nonprofit Administration from the University of San Francisco in December of 2015. She and her husband live in San Francisco and enjoy spending time with family and friends alongside good food and good wine.

David Carvel, Director
David is the founder of Siena Medical, a firm that provides strategy and marketing consulting services for clients across the healthcare spectrum. Previously, David oversaw international product launches for industry-leading medical device and diagnostics companies including Stryker, IDEXX, and Acelity. His current focus is identifying successful and sustainable market-entry strategies for innovative healthcare startups. After engaging with Arc on a pro-bono consulting project, David joined the Board, using his business expertise to enhance the incredible work of the organization. David obtained his MBA from Harvard Business School and graduated summa cum laude from Brandeis University.

Sejo Jahic, Director
Sejo is the Founder and CEO of ECHO Technology Solutions. Sejo says he was born a computer geek, although the computers that he would eventually hack were born after him. He founded ECHO because he believes that smaller businesses deserve the same high-quality IT services that larger companies have. He built a team of professional and dedicated technology experts that work with small and medium-sized businesses, aligning their client technology resources to their business objectives. He and the ECHO team are SOMA neighbors to The Arc as well as great friends and technology advisors. Sejo holds a master's degree in engineering and biocybernetics and fluently speaks three languages.

Michel Kapulica, Director
Michel Kapulica is an Assurance Partner in the San Francisco Office of Ernst & Young LLP with over 25 years of experience in providing audit and consulting services to various types of private equity funds. His clients include large global hedge funds as well as start-up funds. Michel received a B.A. in Business Economics and Accounting from the University of California, Santa Barbara. He has been actively involved with The Arc San Francisco in a board development capacity for several years and has a child with special needs.
Says Michel, "I am excited about helping The Arc provide services to people with developmental disabilities, particularly in today's current climate of budget cuts."

Leah van der Mei, Director
Leah is the Director of Guest Operations and ADA Coordinator at the California Academy of Sciences. In this capacity, Leah has been involved with The Arc and our workforce development program for many years, as both an employer and an original Arc Project Search internship site. Leah is presently Co-Chair of The Arc SF's Business Advisory Council, and has chaired numerous WorkLife Awards events. Leah is also the founder of Museums for Inclusion, a leading edge inclusive museum career development program and toolkit for individuals with disabilities, that is currently in the process of scaling to museums and cultural attractions across the country.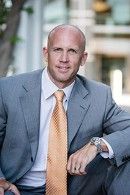 Greg Vogel, Director
Greg has been working on Wall Street for more than 20 years. He is recognized as a leading financial analyst with experience at both large investment banks and boutique investment firms. He has been a regular guest on financial television including CNBC and CNN and has been frequently mentioned in the business press including The Wall Street Journal, Business Week, Forbes and other national financial publications. In 2000, Greg was ranked in The Wall Street Journal's "Best on the Street" analyst survey for his coverage of the software industry. Prior to joining GKV Capital, Greg was a Managing Director and Senior Equity Research Analyst at Banc of America Securities covering the software and internet industry. Greg's career began at Montgomery Securities and his tenure coincided with the emergence and subsequent bust of the Internet bubble. Greg received a BA in philosophy from the University of California at Santa Barbara.
Greg's involvement with The Arc SF began with the Friends Like Me Socialization & Recreation Program, which he helped to develop. He has been a long-time Friends Gala committee member, and co-chaired the 2018 Friends Gala. Greg is married with two children and lives in the East Bay.